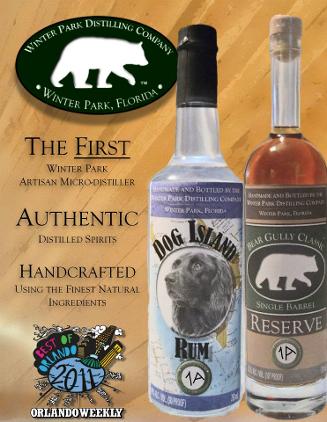 Winter Park Distilling Company:
The Winter Park Distilling Company was established by Paul Twyford and Andrew Asher to cultivate the time-honored tradition of locally handmade distilled spirits within their community. Both hometown boys and natives to Winter Park, Paul and Andrew craft their fine distilled spirits in a manner that hearkens back to the days of George Washington's Mount Vernon estate distillery and the founding of our great nation. Paul and Andrew's whiskies and vodkas reflect their simple commitment to using only the finest ingredients as well as time-tested recipes developed over multiple generations. Indeed, the names of the Winter Park Distilling Company's premier spirits: Bear Gully Classic™ corn whisky and Genius™ fine vodka; are themselves a tribute to a simpler time taken from the pages Winter Park's own history as well as an invitation to experience the quality and tradition of a bygone era for crafting fine distilled spirits.
The Winter Park Distilling Company is the first genuine artisanal distillery in Winter Park and Metro-Orlando. Paul and Andrew utilize traditional goose-neck, pot and reflux stills to produce authentic local whiskies and vodkas. No artificial colors or flavoring are ever added to their spirits. The smooth, enjoyable and refined taste of Winter Park Distilling Company spirits is solely the product of careful fermentation, expert distillation and unwavering attention to detail.
Products:
Bear Gully Classic™ corn whisky

Genius™ fine vodka

Dog Island rum